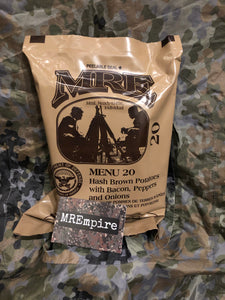 USA MRE Military Meal-Ready-to-Eat ration
Famous MRE US rations - used by USA Army to feed their troops on the battlefield for over half a century 
The famous Menu 20 - Hash Brown Potatoes with Bacon, Peppers and Onions
This menu has been recently replaced so once they're gone, they're gone! 
All of the rations come with a variety of main meals, drinks, deserts, snacks and accessories.
Correctly stored these rations will be edible for many years to come, perfect for any camping or hiking trip, fishing and as a general household back up supply in case of emergencies. 
 21-2023 inspection